Empowering Safety Workshop for Girls
By Ella Tait
The Yes: Young Empowered & Strong Workshop was held on Wednesday 14 April.
It was organised by New Vision 4 Women who have previously worked exclusively with adult women.
After putting out details of the event on social media nine London-based schoolgirls attended.

The attendees were encouraged to be mindful of their surroundings, and were given hypothetical scenarios where their safety was threatened.
They were also encouraged to discuss how best to handle the different situations, which included being grabbed in the street, and a stranger offering them a lift.

Isabelle (12) was brave enough to tell the other attendees about her own experience.

She was walking to school when she noticed an older unidentified man following close behind her.

Isabelle said she didn't tell anyone about the incident until she returned home hours later.
"I ran away as quickly as possible," she said.
"I was so scared."
Isabelle also said her father now walks her to school as they both fear she might find herself in a similar situation again. 
The attendees responded by discussing how best to handle dangerous situations in the future.
Suggestions put forth included talking to an adult such as a teacher or parent, and/or finding a safe space where there are other adults present such as a corner shop.
One attendee even encouraged her fellow sisters to kick their attackers "where the sun don't shine!"
Nighat Khan, founder of New Vision 4 Women, said the move to working with young girls aged 12 to 17 comes in the wake of Sarah Everard's murder.
"Instead of speaking to women, we thought we should speak to girls," she said.
"We want our girls to be safe."
Roz Thornton also attended the workshop, encouraging the girls to talk about empowerment, self-care and wellbeing.
"Knowing who you are will help with your self-confidence," Roz Thornton said.
"You are much more than your name."
She also emphasised the importance of managing stress and mental health.
Thornton finished the workshop with an empowering message, encouraging the attendees to join in the chant;
"I'm young! I'm empowered! I'm strong!"
The experience was well received by the attendees, who described the workshop as unifying.
As well as the useful tips and advice on staying safe, the workshop empowered the girls and gave them the confidence to be themselves and boost their self-esteem.
It provided a safe space where they could express their opinions and discuss their experiences with their fellow sisters.
Khan hopes the session will be the first of many, and is aiming to have the workshop eventually rolled out in schools.
By Ella Tait

The New Vision For Women community came together on International Women's Day to form a chorus of women and supportive men in celebrating the amazing work they are doing for their communities and beyond.
Due to lockdown measures, this most auspicious day was celebrated over Zoom. But that didn't stop the community from honouring women and girls, nor discussing the importance of wellbeing through an emphasis on self-care and healthy eating.
As well as New Vision For Women, representatives from Women For Resources, Healthy Living Platform, Citizens UK, Amazing Women Global, and Near Neighbours also attended as well as political representatives, Streatham MP (Labour) Bell Ribeiro-Addy and Ed Davie, the elected Labour councillor for Lambeth and Cabinet Member for Children and Young People.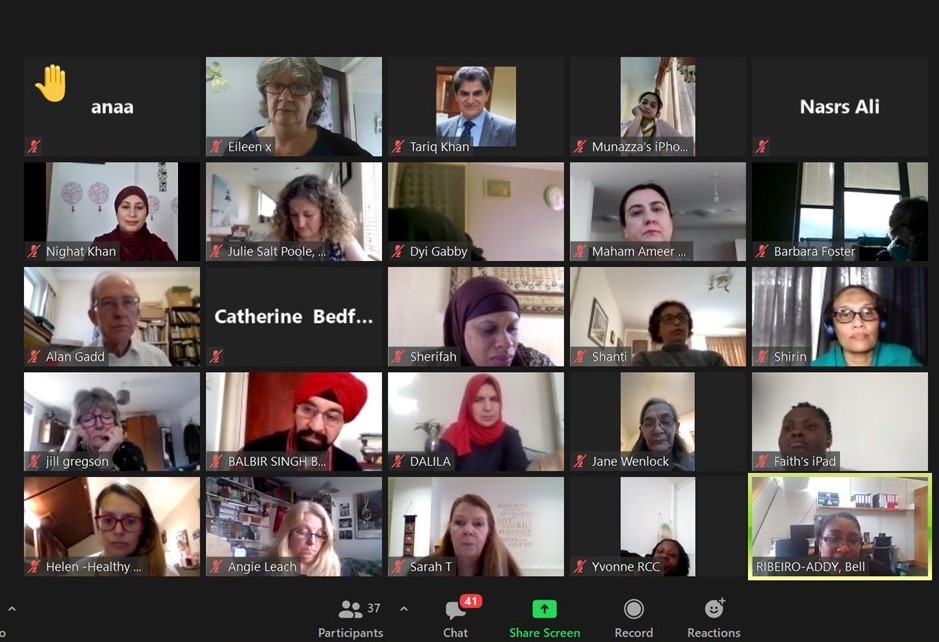 New Vision For Women founder Nighat Khan began the meeting by discussing the work her organisation had done over lockdown. She emphasised the pandemic had been particularly "challenging for our ladies with children".


In response to the challenges faced over the year, she explained how New Vision For Women went online. Online classes connected women in the community through exercise and mindfulness workshops, collective cooking via Zoom, and creative classes all taking precendence in the community calendar.

As the UK moved in and out of lockdown, there were also opportunities to do socially distanced community work in South London such as planting. Mrs Khan said although the pandemic had been hard, she was focusing on the positive.
"The community came together," she said.
As the Women's Day meeting continued, members of the community spoke about their own experiences during the lockdown, with many talking of the struggles they faced having young children at home during the pandemic.
 Elizabeth Fewkes from Near Neighbours asked everyone which women they most admired and what qualities they admired in a woman.
 Among the answers was Malala Yousafzai, Greta Thunberg, and Kamala Harris.
The community's mothers were also recognised for the amazing work they do, with local councillor Ed Davie mentioning his own Mum who he remembered fondly as playing the piano to "destress".
The community also got creative – poetry was read and music was played.
Sharifa Turawa said she loved being a woman and celebrating women.
 "Every woman should have the right to define what they are and who they are as a woman and what that means for them," she said.
 She read Maya Angelou's poem, Phenomenal Women.
"It's the fire in my eyes,   
And the flash of my teeth,   
The swing in my waist,   
And the joy in my feet.   
I'm a woman
Phenomenally."
Former journalist turned poet and writer Julie Salt read her own poem entitled The Time Of My Life, which she described as a "housewife's lament".
She encouraged the other women to throw their anger and frustration onto the page and described writing as an empowering experience. 
Empowerment was a hot topic throughout the meeting, with each speaker talking of the different ways they have found to uplift themselves and their communities over the last year.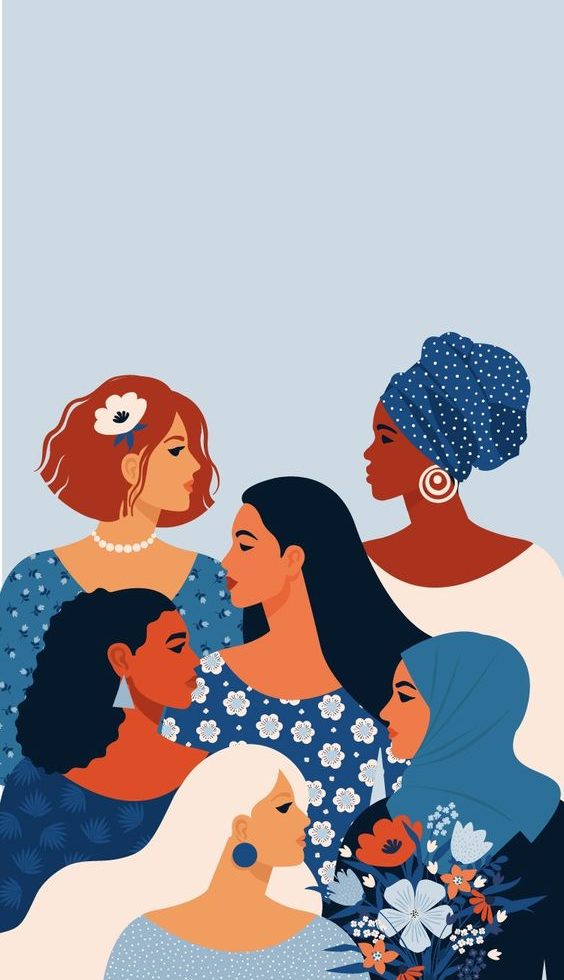 Nasra Ali said New Vision For Women had empowered her to speak up when as a 21-year-old mum she was told one of her children had learning difficulties. 
"I've spoken to a lot of my community sisters and I'm now a lot more confident to go to them," she said.
"It's okay to say I feel trapped in life, but it's not okay to keep it quiet"
She emphasised, "we don't have to be perfect as women." 
"It's nice as a woman to set an example for my community – to say, it's okay to struggle." 
During the meeting self-care and wellbeing were also discussed as being of the utmost importance, especially during heightened periods of stress such as the pandemic.
Carole  a yoga teacher and member of Women For Resources in Swansea, encouraged the other participants to stretch. 
 
She also said over lockdown Women For Resources grew a community garden, sharing the fruits of their labour with their local community while still managing to adhere to the strict measures.
Bell Ribeiro-Addy, Streatham's MP, also talked about her hopes for the anger and frustration of women everywhere to boil over into real, social change, following the tragic death of 33-year old marketing executive, Sarah Everard.
"As women we  have achieved so much but there is so much more that needs to be done," she said.
As the celebration concluded, Shanti Patel mentioned Australian musician Helen Reddy and her iconic women's liberation anthem, I Am Woman.
"I am woman, hear me roar
 In numbers too big to ignore
 And I know too much to go back an' pretend
 'Cause I've heard it all before
 And I've been down there on the floor
 No one's ever gonna keep me down again"
 
It was the perfect conclusion to an empowering and uplifting afternoon.